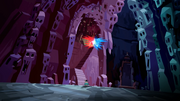 Twin Masters' Cave
is a location in
Hidden Kingdom
. It served as a base for
Twin Masters
, who dwelt in it between their various schemes. It is distinguishable by its large skull-shaped opening.
The cave appeared in many episodes. It first appeared in The Rise of Lin Chung when HighRoller met Twin Masters within it. It also appeared in Demon Heartland, when Yan Ching spied on Twin Masters in it. In Collision Course, Twin Masters stepped out of it to see the asteroid. Twin Masters introduced his bounty hunters in it in The Professionals. It last appeared in The Bronze Giant Part I. Twin Masters had wrapped themselves in a cocoon here in order to gain power. First Squad attempted to attack him here, but were driven back.
The cave has a red and blue palette, and features many hand and skull-like markings, which reflect its owner. It is never revealed whether Twin Masters actually created the cave, though
these strongly suggest that he at least created its appearance.
Ad blocker interference detected!
Wikia is a free-to-use site that makes money from advertising. We have a modified experience for viewers using ad blockers

Wikia is not accessible if you've made further modifications. Remove the custom ad blocker rule(s) and the page will load as expected.