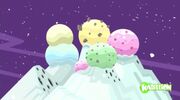 The Terribly Sweet Sundae is a food that first appeared in "Dog Castle". It is somewhere near Dog Castle, up on a snowy mountain. When it was found, First Squad, except for Lin Chung, who drew it instead, started eating it. However, Dog King wouldn't have any because it causes cavities, and back at Big Green, he, Wu Song and the other dogs removed their cavities.
Appearance
Edit
The Terribly Sweet Sundae looks like a giant ice cream sundae. It is made of up giant scoops of different coloured and flavours ice cream with chocolate chips.
Ad blocker interference detected!
Wikia is a free-to-use site that makes money from advertising. We have a modified experience for viewers using ad blockers

Wikia is not accessible if you've made further modifications. Remove the custom ad blocker rule(s) and the page will load as expected.