Skunk King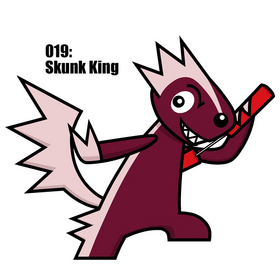 The leader of the skunk army. He's distinguished from his subjects in that he's a tiny bit bigger, has a mohawk on his head, and different patterned body and tail. In "Fierce Battle of the Pig and Skunk Armies", High Roller had the Zebras seperated and left Sparky White in charge of the Skunk Army. Skunk King and his soldiers proved to be a powerful force as they easily defeated the Tank Army and the combined efforts of Mystique Sonia and Jumpy Ghostface. Seeing how powerful both armies were, First Squad had the armies fight each other. When Sparky White ordered them to lauch the Stink Monster, the pigs inhaled it under Sparky Black's orders. This made the pigs sick and caused them to sneaze the skunks into the nearby trees. After ApeTrulley has the giraffes get them down, Skunk King joins Big Green to repay their kindness, seeing how mean High Roller was. Skunk King was used to drive the termites away with his stench. One thing for sure, Skunk King and his army sure pack a punch with their flying nunchuk attack and the powerful stink monster. The one thing that both Pig King and Skunk King have in common is that both their armies had 2 mighty attacks; the pig army had the pig tail vibration attack and snout vacuum and then the skunks had their flying nunchuk and stink monster attacks.
Ad blocker interference detected!
Wikia is a free-to-use site that makes money from advertising. We have a modified experience for viewers using ad blockers

Wikia is not accessible if you've made further modifications. Remove the custom ad blocker rule(s) and the page will load as expected.