Shark King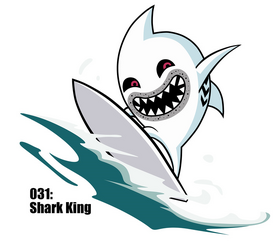 Shark King is the ruler of the sharks. He's distinguished from other sharks in that he's bigger, has red eyes while the others have yellow, is the only gray one, and has dots on his lips. He is a very, talented surfer and has high regard for art; especially Lin Chung's accidental art. In "Shark Castle", he and his soldiers sunk a ship and took the sailors hostage. When ApeTrulley found out he along with First Squad, the Sailor Brothers, and Sammo the Sperm Whale set out to make peace. When the sharks attack, the barnacles act like armor. The sharks tried to remove the barnacles but only allowed Sammo to fire at them in doing so. Shark King refused to surrender unless Lin Chung could paint his board like he accidently painted the turtles. Although Lin Chung manages to do so by sneezing the paint off his brush, Shark King says it isn't enough and challenges them to surfing contest. Shark King ultimately won, but joined Big Green after seeing how good Lin Chung was at making art after Lin Chung accidently turned the rocks into statues by crashing into them. Shark King's job at Big Green is to remove barnacles from Sammo's body.
Ad blocker interference detected!
Wikia is a free-to-use site that makes money from advertising. We have a modified experience for viewers using ad blockers

Wikia is not accessible if you've made further modifications. Remove the custom ad blocker rule(s) and the page will load as expected.