Seagull Prince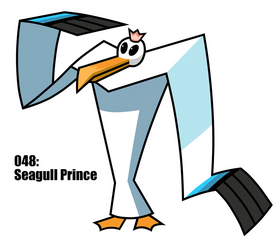 Seagull Prince is the Prince of the Seagulls, son of the Seagull King, and next in line to be Seagull King. He first appeared in Prince of Seagulls
He is very weak and uncoordinated aerial warrior, his own people find him useless until Lin Chung saved him and trained him to proved he can more than just a prince. The prince become a formidable foe while aiding First Squad and his father against the Flying Squirrels and their king. As a result, he became Hero:048, and his father is proud of his success of proving him wrong.
Personality
Edit
At first, clumsy, uncoordinated and apologetic when making lots of mistakes. After his training with Lin Chung, he is bold, talented and highly skilled aerial fighter. 
Ad blocker interference detected!
Wikia is a free-to-use site that makes money from advertising. We have a modified experience for viewers using ad blockers

Wikia is not accessible if you've made further modifications. Remove the custom ad blocker rule(s) and the page will load as expected.