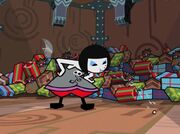 Saliva is an ability used by Mystique Sonia to grow Buns from seeds.
This ability is well known to be used by Mystique Sonia

It's currently unknown if this ability is specific to Mystique Sonia, or if anyone has the ability.

Since Hurricane Lee also grows buns, he may also have the ability. However, this has yet to be confirmed.
Ad blocker interference detected!
Wikia is a free-to-use site that makes money from advertising. We have a modified experience for viewers using ad blockers

Wikia is not accessible if you've made further modifications. Remove the custom ad blocker rule(s) and the page will load as expected.