Rosefinch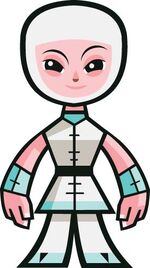 Rosefinch is currently the only female member of Big Green Air Force. She usually rides alone, but tends to ride with Lin Chung when he's in the Air Force. She often works as a scout for Big Green, and on one occasion appeared to act as the air force's leader in Master Chou's absence.
Appearance
Edit
Rosefinch is average height and is quite slender. She has prawn pink skin, a round head, large eyes with large black pupils, a small nose and slightly darker pink lips. She wears a white outfit that resembles a tunic,that has a blue collar, a black stitch pattern up the front, a black belt around her waist, giving her an hourglass shape, and an ice blue trim around the "skirt". She also wears blue wristbands on her wrists, white trousers and blue shoes. She also wears a white standard Air Force cap which covers her hair, which is a big black Afro, that is used in the place of a parachute.
Personality
Edit
Rosefinch seems to be very confident, as she tends to talk a lot. She also seems to be very brave, as she, like the rest of the Air Force, fights in air battles. She also worries about her teammates, as seen in "Bald Eagle Castle", when she showed discomfort when Master Chou was taken hostage by the Eagles.
Rosefinch's name comes from the bird, a Rosefinch. This is likely a reference to the fact that she does fly, in the Air Force, and birds fly too.
Ad blocker interference detected!
Wikia is a free-to-use site that makes money from advertising. We have a modified experience for viewers using ad blockers

Wikia is not accessible if you've made further modifications. Remove the custom ad blocker rule(s) and the page will load as expected.