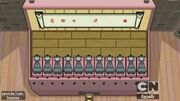 The Rhino Typewriter is a machine that writes using the stamps that the rhinos like to wear on their horns. It was constructed by Woo the Wise to satisfy the rhinos, who wished to continue using their stamps even after they learned that stamping things did not make them their property.
Appearances
Edit
Ad blocker interference detected!
Wikia is a free-to-use site that makes money from advertising. We have a modified experience for viewers using ad blockers

Wikia is not accessible if you've made further modifications. Remove the custom ad blocker rule(s) and the page will load as expected.