Red Face Kwan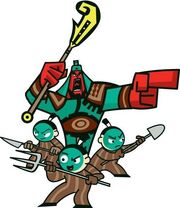 Red Face Kwan is the leader of the Big Green Infantry.
Characteristics
Edit
Red Face Kwan is known for his distinct red skin. In fact, this is not his normal skin tone, but is the deliberate product of a small crab, whose claw is firmly affixed to his buttocks. This increases his rage and is much of what makes his troops so loyal. Without it his face is pulled into an uncontrollably silly expression with a high squeaky voice.
However, when his rage flares, he becomes intimidating even to his own troops, who openly fear him.
Appearances
Edit
Ad blocker interference detected!
Wikia is a free-to-use site that makes money from advertising. We have a modified experience for viewers using ad blockers

Wikia is not accessible if you've made further modifications. Remove the custom ad blocker rule(s) and the page will load as expected.