Owl King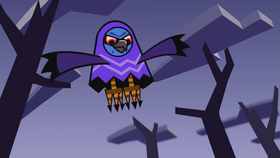 Owl King was first seen in "Big Baby Turtles" and is the king of the Owls. Owl King attacked Mr. No Hands with his sonic scream. Owl King was very close to joining Big Green but was interrupted by Armadillo King unforeseen attack. Despite this, the Owls agree to help Big Green reclaim the Owl Amulet that was stolen from them.
Ad blocker interference detected!
Wikia is a free-to-use site that makes money from advertising. We have a modified experience for viewers using ad blockers

Wikia is not accessible if you've made further modifications. Remove the custom ad blocker rule(s) and the page will load as expected.