Master Chou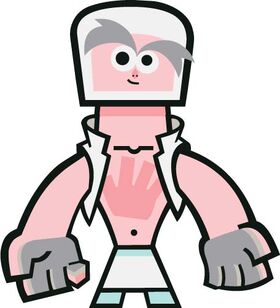 Master Chou is the leader of the Big Green Air Force. He always rides with Burly. He tends to be the one launching the crossbow attack. He holds it while Burly pushes back until he can let go.
Appearance
Edit
Master Chou has prawn pink skin, small round white eyes with black pupils, a tiny nose and bushy grey eyebrows. The palms of his hands are grey as well. He wears a white shirt with an open front, revealing a handprint on his chest, and has a white standard issue air force cap covering his black afro hair, which he, like the rest of the air force, uses as a parachute.
Personality
Edit
Much like Mr. No Hands, Master Chou is very strict. Being the master of the Air Force, he often orders the other members around, and acts like a drill sergeant. However, he is not mean, and he is also brave, as he fights in aerial battles and flies planes like the other members of the Air Force.
He is called Master Chou presumably because he is the master of the air force or a master of air force tactics.
He is classified as Hero:086.
Master Chou is the smallest/shortest in the Air Force.
Ad blocker interference detected!
Wikia is a free-to-use site that makes money from advertising. We have a modified experience for viewers using ad blockers

Wikia is not accessible if you've made further modifications. Remove the custom ad blocker rule(s) and the page will load as expected.