Mano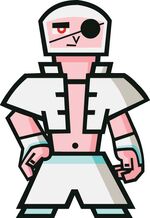 Mano is a human pilot and one of the key members of the Big Green Air Force. He usually does not ride with anyone.
Biography
Edit
Along with the rest of the Air Force, Mano first appeared in Camel Castle in order to deliver minty gum to the camels to counter their noxious spit attacks. The Air Force dropped the gum all over the castle. 
He has subsequently fought in many aerial battles along with the rest of the Air Force.  He eventually joined the 107 heroes in forming the Bronze Giant in "The Bronze Giant".
Appearance
Edit
Mano is tall and is quite slender. He has prawn pink skin, a squarish face with a small pointed nose, and wears a black pirate-type eyepatch due to only having one eye, which is square shaped with a red iris. He wears a white shirt with an open front that shows his tummy, white and baby-blue gauntlets on his hands, white and baby-blue trousers and baby-blue shoes. He also wears a white Air Force cap, which covers his giant black Afro which he uses as a parachute like the other members of the Air Force.
Personality
Edit
Not much is known about Mano because he hardly ever talks. It would seem he is brave, as he fights in aerial battles, as seen in "Air Battle" and other episodes he has appeared in.
Though, he normally does not talk, Mano was heard to scream in "Eagle Castle". Also, in "Bald Eagle Castle", he said "huh?" when he saw the Bald Eagles had Commander ApeTrully.
He is classified as Hero: 083.
In some materials, such as the trading cards, he is referred to as "Eyepatch."

The name was likely used during preliminary design, meaning "Eyepatch" may have once going to have been his name.

It's currently unknown why Mano rarely speaks because no one has ever mentioned it.
Mano is the tallest member of the Air Force, he is taller than Burly who is the largest member.
Mano has been depicted as shirtless in both crowd scenes and in a Cartoon Network ad for an online game, suggesting that a character model of this exists, and possibly that it was originally intended that he be shirtless.
Ad blocker interference detected!
Wikia is a free-to-use site that makes money from advertising. We have a modified experience for viewers using ad blockers

Wikia is not accessible if you've made further modifications. Remove the custom ad blocker rule(s) and the page will load as expected.