Lizard King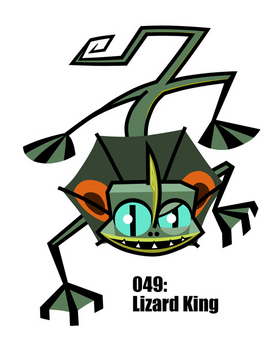 Lizard King was at one point the ruler of the lizards at Lizard Castle, prior to his banishment, and is a former ally of Twin Masters and High Roller. Though now a member of Big Green, it is unknown if he has regained power amongst his people. He first appeared in The Lizard King.
Personality
Edit
Adaptive, arrogant, resourceful and a quick-learner, he is shown to be an insightful animal leader and observed humans from a distance for a long time. Also, he speaks with high distinction and is manipulative towards his people. He can be easily angered and reckless. His chief motive when working for Twin Masters was greed.
Despite these negative traits, Lizard King is honorable, respectful, forgiving and friendly to allies.
Abilities
Edit
Like his subjects, he has a prehensile tongue and tail. He has a frill around his neck upon which are two eye markings which can shoot twin beams of energy. This energy can accomplish a variety of purposes, such as knocking a foe back with concussive force or, in at least one case, making a plant bloom and shoot thorns. Combined with Woo the Wise's 4D Visual Component Enhancer, it could freeze foes in a state of stasis. He can climb sheer surfaces with ease. He is a master of human language and is skilled at manipulation.
Lizard King is one of the few animal leaders to learn the language of humans by a means other than by learning from Parrot King.  Evidently, other lizards did so as well.
He is one of the few animal leaders that did not join Big Green in their debut episodes, but then joined in a later episode.

So far, he is the only animal king not to join Big Green even when his former subjects did.

In The Lizard King, he was a servant of Twin Masters. In The Professionals, he had evidently shifted alliances and was loyal to HighRoller, possibly because of Twin Masters' wrath toward any who failed them.
Ad blocker interference detected!
Wikia is a free-to-use site that makes money from advertising. We have a modified experience for viewers using ad blockers

Wikia is not accessible if you've made further modifications. Remove the custom ad blocker rule(s) and the page will load as expected.