This article is about The castle. You may be looking for The episode.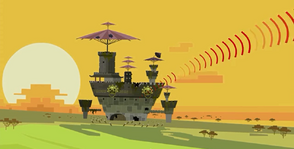 Lion Castle is the home of the lions. It is ruled by Lion King.
Surrounding Area
Edit
Lion Castle is situated on a savannah with sparse trees and rocks.
Structure
Edit
The castle is shaped like and inverted cone. Several towers extend from its roof, including one with features a large umbrella, and others with smaller umbrellas. At least two lion head-shaped objects decorate the walls, and certain battle damage is visible, as well.
Lion King's personal chamber is known to exist inside. The space doubles as a basketball court.
Ad blocker interference detected!
Wikia is a free-to-use site that makes money from advertising. We have a modified experience for viewers using ad blockers

Wikia is not accessible if you've made further modifications. Remove the custom ad blocker rule(s) and the page will load as expected.