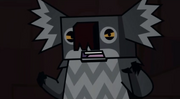 Koala King
is the leader of the
koalas
at
Koala Castle
.
Biography
Edit
Koala King became acquainted with Commander ApeTrully at some point in the past, but did not join Big Green until sometime after. Shortly before ApeTrully led a diplomatic mission, accompanied by First Squad, to convince him to join Big Green, the Commander of Darkness used a special potion to assume his form and replace him. In this form, he turned on ApeTrully and First Squad, who retaliated. In the course of the following battle, the true Koala King was found and the
Commander of Darkness exposed and defeated. Koala King subsequently joined Big Green. He later was one of the 107 heroes who united in forming the
Bronze Giant
.
Although Koala King is gray, the Commander of Darkness is somehow able to impersonate him, despite being blue.