Kangaroo King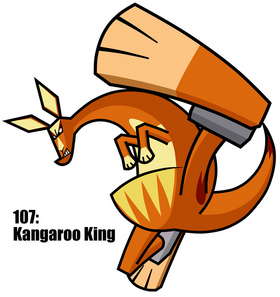 Kangaroo King is a former member of HighRoller's army.  His name suggests that he is the leader of the kangaroos, though no other kangaroos have appeared.
Biography
Edit
HighRoller convinced Kangaroo King to join him at some point in the past.  Sometime later, he and Gorilla King were dispatched to kidnap Mystique Sonia, whom they defeated with relative ease thanks to their great strength.  However, they let Yaksha return to Big Green so that they could bait First Squad to come to East Citadel.
When First Squad arrived at East Citadel, they learned of Highroller's true plan, that they would fight Kangaroo King and Gorilla King together in their combined form, dubbed "Gorillaroo."  Gorillaroo proved too much until First Squad called in backup from Big Green, allowing them to assume their own combined forms.  Still, Gorillaroo held the upper hand until First Squad managed to recombine them in a different form. This new combination had Kangaroo King's weak arms and Gorilla King's weak legs, allowing Big Green's strike force to triumph and escape with Sonia.  Kangaroo King, along with Gorilla King, later came to Big Green to switch allegiances.
Kangaroo King later joined the 107 heroes in forming the Bronze Giant.
Powers And Abilities
Edit
Kangaroo King has extremely powerful legs, giving him what is possibly the strongest kick in all of Hidden Kingdom, capable turning boulders into rubble. When combined with Gorilla King, the two have the strongest punch as well. Additionally, he is quite agile even for his immense size, able to jump great heights (even while caring the hulking beast known as Gorilla King).
Real world male kangaroos lack pouches, but Kangaroo King has one.

Real world kangaroos also have strong punching arms, and will punch one another in dominance matches.
Ad blocker interference detected!
Wikia is a free-to-use site that makes money from advertising. We have a modified experience for viewers using ad blockers

Wikia is not accessible if you've made further modifications. Remove the custom ad blocker rule(s) and the page will load as expected.