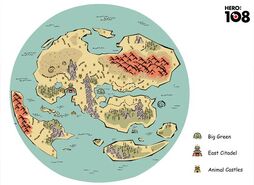 Hidden Kingdom is the setting of most events in Hero: 108. It appears to be a very large region wtih many diverse areas, ranging from oceans, forests, and mountains to deserts and tundras. In Collision Course, Lin Chung calls it "our world" while drawing a picture of his home planet to communicate with an alien, seemingly suggesting that Hidden Kingdom may be the entire planet. Furthermore, in The Sword of Dark Fire, Lin Chung mentions the "molten core of Hidden Kingdom", however, Lin Chung was likely referring to the planet (likely earth) as a whole in both references, and Hidden Kingdom is more likely a region, as seen in The Professionals, when Mr. No Hands mentions "the dark edges of Hidden Kingdom", suggesting that it is a bounded geographical area, which is further corroborated when Commander ApeTrully mentions "the four corners of the realm" in The Bronze Giant. It is the home all main characters, as well as many other humans and animals.
Major Locations
Edit
Secondary Locations
Edit
Animal Castles
Edit
Animal Kings and Queens
Zebra King (probbely)
Monkey King
Snail King (probbely)
Woodpecker King (probbely)
Duck King (probbely)
Whale King (probbely)
Ostrich King (probbely)
Iguana King
Jellyfish King (probbely)
Python King (probbely)
Seahorse King (probbely)
Boar King (probbely)
Swan King (probbely)
Panther King (probbely)
Komodo Dragon King (probbely)
Ad blocker interference detected!
Wikia is a free-to-use site that makes money from advertising. We have a modified experience for viewers using ad blockers

Wikia is not accessible if you've made further modifications. Remove the custom ad blocker rule(s) and the page will load as expected.