Hen Queen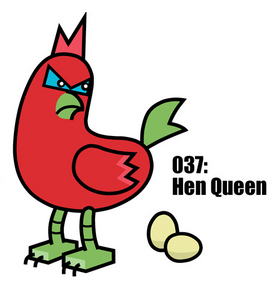 Basic Information
Species
Hen
Hen Queen appeared in Pitched Battle of the Airforce. The hen queen was on bald eagle king. Hen Queen is red with green legs.She was 1 of the animals used for the chimeric dragon. The hens were used as guns (egg launchers) against 1st squad. Mighty Ray shocked the bald eagles, leaving behind the hens & bats. Ape Trully tells them that they were just being used, so they join Big Green. It's unknown if Hen Queen is a part of the air force.
Ad blocker interference detected!
Wikia is a free-to-use site that makes money from advertising. We have a modified experience for viewers using ad blockers

Wikia is not accessible if you've made further modifications. Remove the custom ad blocker rule(s) and the page will load as expected.