Groundhog King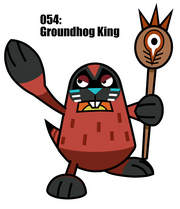 The Groundhog King is the king of groundhogs. He first appeared in Pitched Battle of the Tank Army when HighRoller was deciding which animals should he bring with him to get the treasure that turned humans into animals. He is distinguished from his minions in that he is the only red one and the only one who can speak human language, as the others only seem capable of saying "Bogwah" over and over. In Groundhog Castle, he used the Bogwah to make decisions. He also stole all the vegetables from a field above his castle. He carries a staff of unknown significance.
Ad blocker interference detected!
Wikia is a free-to-use site that makes money from advertising. We have a modified experience for viewers using ad blockers

Wikia is not accessible if you've made further modifications. Remove the custom ad blocker rule(s) and the page will load as expected.