Frog King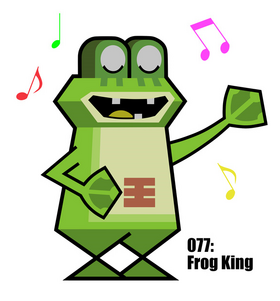 Basic Information
Species
Frog
Dwelling
Big Green, Frog Castle
Allies
Big Green, First Squad, High Roller (formerly), other Frogs, Humans, Panda King, Giraffe King, Rattle Diva
Enemies
High Roller, Twin Masters (formerly, deceased), Zebra Brothers, Bearstomp, Big Green (formerly), Humans (formerly)
Frog King is the King of frogs. He's distinguished from the others as he is a darker shade of green. He appeared in Frog Castle. He was capturing humans to force them to listen to music. Their singing together can create weapons. Frog King joined Big Green after being defeated by the Do-Re-Mi Band. He then joined the band alongside several other frogs.
He's classified as hero: 077

​This corresponds to the seventy-seven ranked Star of Destiny in the novel Water Margin, Yue He, whose nickname is "Iron Whistle".[citation needed]
Ad blocker interference detected!
Wikia is a free-to-use site that makes money from advertising. We have a modified experience for viewers using ad blockers

Wikia is not accessible if you've made further modifications. Remove the custom ad blocker rule(s) and the page will load as expected.