Deer King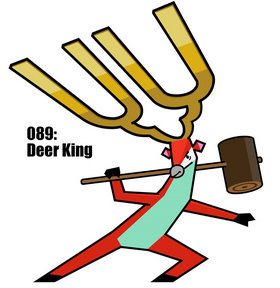 Basic Information
Species
Deer
Dwelling
Big Green, Deer Castle
Allies
Big Green, First Squad, High Roller (formerly), other Deer
Enemies
High Roller, Twin Masters (formerly, deceased), Zebra Brothers, Bearstomp, Big Green (formerly), First Squad (formerly)
Deer King is the king of deer. He first appeared in "Deer Castle", having locked up humans, believing them to have destroyed his card towers.
Appearance
Edit
Deer King is dark reddish-orange with a white face and has golden-yellow coloured antlers shaped like tuning forks. He is usually seen carrying a hammer and he flies on a magnet, using repelling forces to levitate.
Abilities
Edit
Vibrations- Deer King uses a hammer to smack his antlers and make them vibrate. He can then ram into his opponents and make them shake uncontrollably. H4 can also for this to the earth below him.
Levitation- Deer King levitates by using repelling forces and riding a magnet.
Mallet- Deer King uses a large mallet as a weapon, he wields it with proficiency.
Deer King is similar to Duckbill King since they both can put things together (Deer King stacks while Duckbill King pieces things together).
Deer King sounds like a horse when he speaks.
Ad blocker interference detected!
Wikia is a free-to-use site that makes money from advertising. We have a modified experience for viewers using ad blockers

Wikia is not accessible if you've made further modifications. Remove the custom ad blocker rule(s) and the page will load as expected.