Commander of Darkness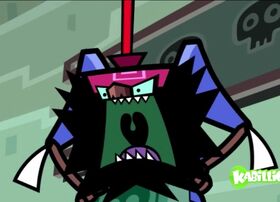 The Commander of Darkness is a human who debuted or first appeared in Parrot Castle II. He has a candle on his head since he's afraid of the dark (which Parrot King & Jumpy Ghostface thought funny). He is the leader of The Soldiers of Darkness. His personality is ironic since he commands an army underground (meaning it's dark) but he's afraid of the dark. In the episodes Revenge of the Commander of Darkness and Enter the Dragon it's seen that he has a way with potions.
The Commander of Darkness and Mighty Ray have the same fear. They're both afraid of the dark.
Ad blocker interference detected!
Wikia is a free-to-use site that makes money from advertising. We have a modified experience for viewers using ad blockers

Wikia is not accessible if you've made further modifications. Remove the custom ad blocker rule(s) and the page will load as expected.