Bartley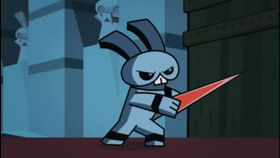 Bartley is a rabbit guard. His only appearance so far has been Ninja Fight. He was on guard duty when Spotter's mantis army attacked Rabbit Castle, and was overwhelmed by mantis soldiers.
Appearance
Edit
Bartley looks a bit like Jumpy Ghostface, except that he doesn't have the pink insides in his ears or a scar on his head. He also wears black wrist and ankle bands on his wrists and ankles, and carries a long carrot sword.
Ad blocker interference detected!
Wikia is a free-to-use site that makes money from advertising. We have a modified experience for viewers using ad blockers

Wikia is not accessible if you've made further modifications. Remove the custom ad blocker rule(s) and the page will load as expected.