Bald Eagle Castle is episode thirty-fourth of season one of Hero:108.
The eagles, now bald following the events of The Air Battle, seek revenge on Big Green by abducting Commander ApeTrully.
Second appearance of the Bald Eagles, after the "Air Battle".
The Bald eagles become the Ostriches close to the end of this episode.
"Rosefinch, will you kiss my eyeballs better?"~ Burly
"Master Chou!"~ Rosefinch
(Disgusted, in response to Burly's question) "No"~ Rosefinch
"No. You'll hurt them if you pull them out. ~ Rosefinch
"We'll have to dig them out." ~ Rosefinch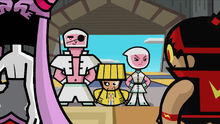 Mano's eyepatch on the wrong side, and his eye has no white to it.
Ad blocker interference detected!
Wikia is a free-to-use site that makes money from advertising. We have a modified experience for viewers using ad blockers

Wikia is not accessible if you've made further modifications. Remove the custom ad blocker rule(s) and the page will load as expected.