Armadillo King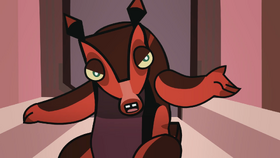 Armadillo King was an old friend of Commander ApeTrully and king of the armadillos. In Big Baby Turtles - Part I / Big Baby Turtles - Part II, Commander ApeTrully called in Armadillo King and his subjects to be temporary transportation for First Squad while the turtles were missing. Lin Chung had to train the armadillos into attacking alongside First Squad. Armadillo King is tough, speedy and does not surrender. After the turtles were found, Armadillo King and his armadillos took their leave.
In The Bronze Giant, Armadillo King was among the animals that helped to form the Bronze Giant in the final fight against Twin Masters.
Armadillo King recognizes ApeTrully as a fellow student of Parrot King. Since ApeTrully was not disguised at that time, this would seem to suggest that Armadillo King is aware of ApeTruly's secret monkey identity.
Ad blocker interference detected!
Wikia is a free-to-use site that makes money from advertising. We have a modified experience for viewers using ad blockers

Wikia is not accessible if you've made further modifications. Remove the custom ad blocker rule(s) and the page will load as expected.